Squaretalk Softphone Settings
In order to access the softphone settings, simply click on the "Menu" button, represented by three horizontal stripes, located in the top right corner of your softphone interface. From the dropdown menu that appears, select the "Settings" option to configure and customize your softphone preferences.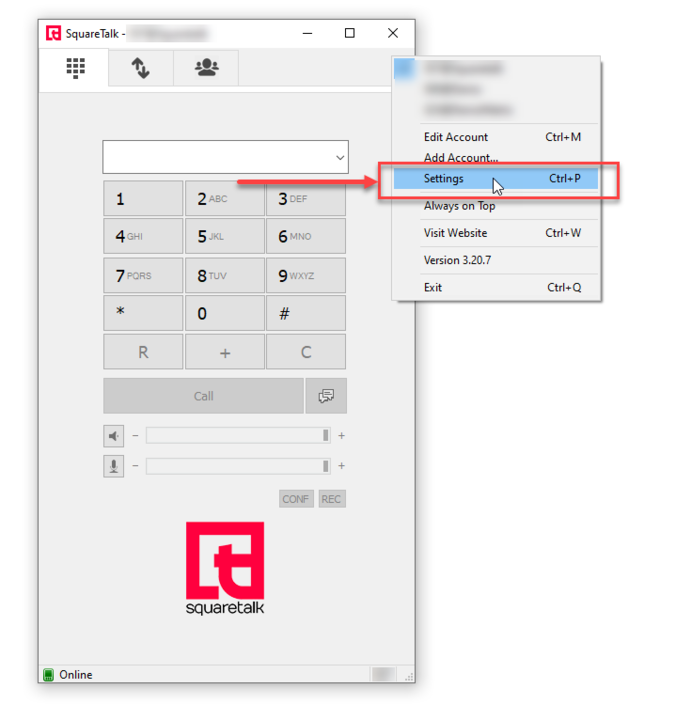 In the image below you can see some of the main "Settings" you can manage according to your preferences.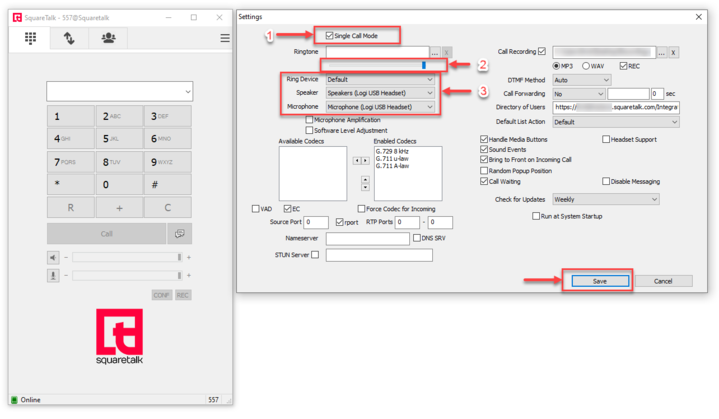 Single call mode - Checking the box will put your softphone in a "single call mode", you will have only the main softphone window showing

Ring Volume - Control the ringing volume to your liking

Device preferences - Choose the device you would like to use during your work with the softphone (Headset; Speakers; Default)

Once you've adjusted your settings, click on the "Save" button.
Related Articles

Squaretalk Softphone - How to Set up a Directory of Users

To set the "Directory of Users" option in you Softphone, follow the instructions below: Copy the link and modify it to fit your needs as shown in step one: https://<servername>.squaretalk.com/Integration/softphone_api.php?ext=<extensionnumber> (Where ...

Squaretalk Softphone - How to Add Extension to the Softphone

1. Go to "Add Account..." from the settings button 2. Add the domain, the number of the extension you want to register and the password of your extension. (Keep in mind that the domain should be followed by ":5744" to specify the port that we are ...

General Settings

1. Click "Settings" on the menu on the left-hand side to access the settings options. PS: If you do not see the settings options in the menu, you do not have the permission to do that. Contact your administrator to do that. 2. Click '2FA' to proceed ...

Matrix Settings - Integrations

1. Click "Settings" to navigate to the settings page of the Matrix. 2. Click "Integrations & Apps" to navigate to the integrations and workflows tab. 3. Here you can see some of the products which we integrated with the Matrix. 4. Click the ...

Axiom Settings Alerts

1. Click "Settings" to navigate to the settings page on the left hand side of the screen. You will be able to see the settings tab only if you have admin rights. 2. Click "Alerts" to navigate to the Alerts tab. 3. Click on the 'Long Call Duration' ...